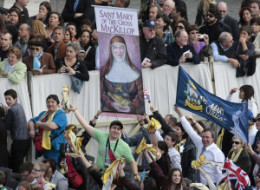 From AP/Huffington Post
VATICAN CITY — Pope Benedict XVI proclaimed Australia's first saint on Sunday, canonizing a 19th-century nun and also declaring five other saints in an open-air Mass attended by tens of thousands.
Chants of "Aussie Aussie Aussie! Oi Oi Oi!" echoed throughout St. Peter's Square as a raucous crowd of flag-and-balloon-carrying Australians used a traditional sports cheer to celebrate the honor bestowed on their late native, Mary MacKillop. In Sydney, huge images of the nun were projected onto the sandstone pylons of the iconic Sydney Harbor Bridge.
Speaking in Latin on the steps of St. Peter's Basilica, Benedict solemnly read out the names of each of the six new saints, declaring each one worthy of veneration in all the Catholic Church. Among them was Brother Andre Bessette, a Canadian brother known as a "miracle worker" and revered by millions of Canadians and Americans for healing thousands of sick who came to him.
"Let us be drawn by these shining examples, let us be guided by their teachings," Benedict said in his homily, delivered in English, French, Italian, Polish and Spanish to reflect the languages spoken by the church's newest saints.
A cheer had broken out in the crowd when MacKillop's name was announced earlier in the Mass, evidence of the significant turnout of Australians celebrating the humble nun who was excommunicated for a few months in part because her religious order exposed a pedophile priest.
The views expressed in the Parliament Blog may not necessarily reflect the official position of CPWR, its officers or Board of Trustees