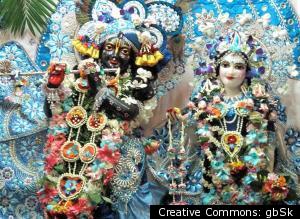 Gadadhara Pandit Dasa
from Huffington Post
Millions will gather today, in India and around the world, to offer prayers, worship, and devotional songs glorifying the appearance of the Divine mother, Radha (Radharani). Radha descended from the spiritual realm shortly after Krishna, approximately 5,000 years ago. She took birth in the small village known as Barsana, which is about 28 miles from Mathura, the birth place of Krishna.
The word Radha comes from the Sanskrit verbal rootradh, which means to worship, and the word rani, which means queen. Radharani can be literally translated to mean "the queen of worship." In some texts, she is described as "the supreme goddess who is worshipable by everyone. She is the protector of all, and she is the mother of the entire universe."
The answer to the question that has been on everyone's mind for millennia is, YES and NO. The question is: Is God a Man? God is not just male, and according to some Vedic scriptures, God has both masculine and feminine expansions. In the Bhagavad Gita, Krishna provides a sneak preview into these feminine traits.
The views expressed in the Parliament Blog may not necessarily reflect the official position of CPWR, its officers or Board of Trustees