Archive for the 'catholic' tag
The Parliament of the World's Religions faced difficulty in the early nineties pumping up the Catholic Archdiocese of Chicago to participate in plans for the centennial Parliament of 1993. Then came Sister Joan McGuire, whose will to advance ecumenics changed it all. At a June 14 prayer service honoring her retirement, leaders of CPWR past and present, including Chair Mujahid and Executive Director Nelson,  gathered to celebrate a trailblazing career in ecumenical, interfaith accomplishment. Board Trustee Emeritus of CPWR and current Ecumenical leader of the Archdiocese Thomas Baina led the service as celebrant, citing a dissertation in the ceremony which detailed McGuire's service leading up to her joining the Parliament Board of Trustees. In his remarks,
And, history has already recorded her place in the founding of the Council for a Parliament of the World's Religions.  Those of you who know this story know that I was against the idea from the start.  I thought it was a pretentious name and an unworkable idea.  I advised her to keep her distance.  Well, fortunately for history, Sister Joan ignored my advice.  Listen to what Dr. Carlos Parra, in his recent dissertation on the Parliament says:

. . . Sister Joan McGuire, a member of the Dominican Order with a doctorate in sacred theology and the Director of the Office for Ecumenical and Interreligious Affairs of the Archdiocese of Chicago was a committed observer throughout this process.  Her ecumenical presence, leadership as a Catholic religious woman, and ecclesiastical savvy and tactfulness were like a gentle wind that swept over the waters of these early converging currents.  As Cardinal Bernardin's official representative  . . . Sister McGuire was instrumental in getting for the centennial project not only the support of the Archdiocese but of the Council of Religious Leaders of Metropolitan Chicago . . . which brought together not only Catholics and the various Protestant denominations but also the Jewish community . . .

In Dr. Parra's study he argues that Sister Joan's prudent judgment, patience in building relationships and the trust she has with the religious leaders of Chicago were all instrumental in their receiving her recommendations to support the Parliament.  I would add that he correctly describes all her dealings with our partners in dialogue.  And, of course, she won me over to the parliament.

Sister Joan was called back to her Order in 1992 to assume a position on the Council.  She served there until 1996 when, in December, she returned to again assume the position of Director.  Only a few months later, in May, she would introduce herself to the new Archbishop, Francis George, who when she said she ran the ecumenical office, replied, "Good, I'm interested in that."

That simple remark could not capture the degree of personal engagement and support which EIA received from the new archbishop.  Within the first year, she was able to schedule the Cardinal for the first visit of an Archbishop of Chicago to a mosque.  Cardinal George's experience with the Evangelical/Roman Catholic dialogue brought another new dimension to EIA work, as did his focus on Faith and Culture.  Sister Joan was also able to help plan and execute the "Dialogue of Love: A Pilgrimage to Constantinople and Rome" with the Greek Metropolis of Chicago.
With utmost gratitude, the Parliament salutes Sister Joan McGuire wish best wishes for a peaceful and exuberant retirement. Her work facilitating relationships between Catholics and Muslim, Jewish, and other faiths made her a perfect match for the Parliament.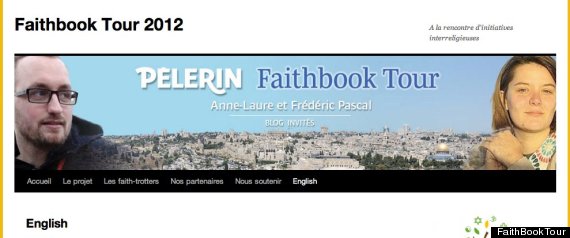 by Gillian Flaccus
from the Huffington Post
CLAREMONT, Calif. — Frederic and Anne-Laure Pascal are devout Roman Catholics who built their lives around their religion. When she lost her job last year, the young couple decided on an unlikely expression of their religious commitment: a worldwide "interfaith pilgrimage" to places where peace has won out over dueling dogmas.
Since October, the French couple has visited 11 nations from Iraq to Malaysia in an odyssey to find people of all creeds who have dedicated their lives to overcoming religious intolerance in some of the world's most divided and war-torn corners.
The husband-and-wife team blogs about their adventures – and their own soul-searching – and takes short video clips for the project they've dubbed the Faithbook Tour.
From SIFY
In a remarkable interfaith gesture, Sixth Annual Catholic Diocesan Youth Rally held on March five in Reno (Nevada, USA), involving Catholic teenagers from all over northern Nevada, heard from area Muslim-Hindu-Buddhist-Jewish leaders.
Catholic teenagers listened intently in the chapel of Bishop Manogue Catholic High School to Muslim imam Abdulrahim Barghouthi, Hindu statesman Rajan Zed, Buddhist priest William S. Bartlett, and Jewish rabbi Myra Soifer, explaining the tenets of their respective faiths, highlighting similarities. It ended with recitation of Gayatri Mantra (most sacred mantra of Hinduism from the oldest existing scripture of mankind, Rig-Veda) by Zed.
From The Dallas Morning News,
ARLINGTON – For far too long, Protestants and Catholics didn't mingle in Northern Ireland. Violence tore them apart.
But this month, 16 teenagers from the Belfast area – eight of them Protestant, eight of them Catholic – are side by side and becoming friends in Dallas-Fort Worth . They've been bonding as they stocked a food pantry for the needy, built a Fourth of July float and jumped on rides at Six Flags Over Texas.
They're staying with North Texas teens and their families as part of the Ulster Project, a 35-year-old national effort that helps foster friendships among Irish students and transform them into peacemakers in their homeland. Program supporters say that the American teens benefit, too. In 1994, the project expanded to Arlington.
When Beth McClements, 15, heads back to Northern Ireland, she'll take some lifelong lessons with her.
"Hopefully, to be a little more tolerant and more accepting of people from different backgrounds," said McClements, who is Catholic. "Be more understanding and less judgmental."
Hanging out with Catholics and Protestants has shown McClements that while there may be differences in their faith, "we're all the same."
Liza Hawrylak of Arlington says that the Ulster effort is making a difference. Her family has hosted two students from Northern Ireland. The Irish teens find common ground, said Hawrylak, president of Ulster Project Arlington.
"You see how the kids grow and they've bonded together and work together," she said. "We're bringing peace to the future leaders of Northern Ireland."
Beginnings in 1975
The Ulster Project was launched in 1975 when a Church of Ireland priest was asked what could be done to ease tensions in Northern Ireland.
The priest, who had visited the U.S. during a pastoral exchange program, figured that students could benefit from seeing how Americans lived in a multicultural society.
There are several Ulster Project chapters across America. The Arlington group holds fundraisers through the year to cover half of the Northern Ireland teens' travel and program costs.
In Northern Ireland, peace has long been elusive. About 3,700 people were killed during a 30-year period called the Troubles, which lasted until the late '90s.
In 1972, British soldiers killed 13 protesters in Northern Ireland on a day known as Bloody Sunday. Last month, the British prime minister offered an apology after an investigation determined that the killings were unjustified.
A peace agreement in 1998 ended much of the violence.
But tensions linger. Last spring, a bomb went off in the town of Holywood, where McClements lives.
"It's sad to think that it's still happening," she said. "There's a small group from each side that would still be involved in violence, but everyone else is trying to move forward."
Life is improving in Northern Ireland, and people are more tolerant, the Ulster Project participants say. Protestants and Catholics are mingling. Schools are integrated and children of both faiths are becoming friends.
"It's definitely getting better," McClements said.
The Northern Irish teens in Texas say they're open-minded. To them, it doesn't matter who's Protestant and who's Catholic.
"I don't really care what religion somebody is," said Thomas Elliott, 16, who is Protestant. "As long as they're a nice person, that's all that really matters."
Elliott said the tension between Catholics and Protestants won't completely disappear. But he hopes that what he learns in Texas rubs off on people back home.
Their American hosts are learning lessons, too.
Beth Grothouse of Arlington, whose family is hosting McClements, hopes to take what she's learned back to the halls of Lamar High School, where she's a student.
"There's just so many people at school who you look at and say, 'I'm not going to talk to them,' " the 15-year-old said. "There are so many little cliques, and people judge. I think it will open me up and be more accepting."
Click here to read the full article.