Archive for the 'Sacred Sites' tag
by Scott Theisen
from ABC News–Minnesota
The Obama administration on Monday began reaching out to Native American political and spiritual leaders to address concerns over the protection of sacred sites on federal land.
Tribal leaders said they're frustrated. Some feel consultation between the federal government and tribes has become just a formality despite promises by the administration to improve discussions.
About four dozen tribal leaders from New Mexico, Arizona and elsewhere packed a meeting room in Albuquerque for the first of a few listening sessions planned by the U.S. Interior Department.
Pointing to the importance of sacred sites to religious and cultural practices, the department is aiming to develop some kind of uniform policy for addressing the protection of such sites. That could mean a consultation policy specific to sacred sites or changes in law that would allow for greater protections, officials said.
by Riazat Butt for the Guardian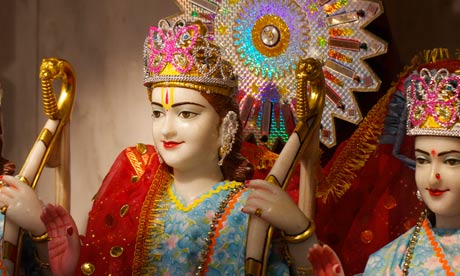 In the back room of a Manchester church, a woman fishes a stereo and some CDs out of a carrier bag . As the evening sun streams through the frosted windows, choir leader Jacqui Allen calls to order the dozen people exchanging small talk around her. Then something extraordinary happens. The choir sings gospel songs such as Face to Face and Joyous in a way that makes the spine tingle, the heart soar and the tummy flip. The same thing happens at its rehearsals every week, but this one is different. The choir of the New Testament Church of God is preparing for its biggest appearance to date – alongside US gospel singer Candi Staton – for the Sacred Sites arm of the festival, which puts international performers in places of Christian, Jewish, Hindu, Sikh and Muslim worship across the city. "I feel very privileged, motivated and encouraged to know the festival is not an in-house event," says Diane Plummer, a choir member since its inception five years ago. "It will bring the community into a place they don't normally go." Fellow singer and parishioner Cory Bernard says the choir has "never done anything like this before. I don't know what people expect. There are lots of stereotypes about gospel choirs. I think they will hear passion and something different." The church noticeboard testifies to the event's popularity, with three pages' worth of congregants requesting tickets for friends and family.
Staton says that the difference between playing a concert and singing in a church comes down to the atmosphere. "When people come to church, it's about praise, worship and reverence," she says down the phone from Atlanta, where she is rehearsing with her band, which is joining her in Manchester. "When people come to a concert, they come to party. For me, I've done the secular and sacred. But I am very excited about being part of this." Staton began her career in the 50s with the Jewel Gospel Trio. She gained mainstream success in the 70s, then returned to her gospel roots in 1982. While the audience at the New Testament Church of God won't hear her 1976 hit Young Hearts Run Free, she will perform her other smash, You Got the Love, as she says it's "an inspirational song."
For festival director Alex Poots Sacred Sites is a way to explore how God is celebrated through the arts. "We're interested in experimental theatre and offering the chance to witness performances in the most resonant setting. It shouldn't be something you could see last week." Poots was inspired by the US theatre director Peter Sellars, who told him there was a network of faith in every city. "Sellars said you could look at a city and it was a grid of sacred sites. That term stuck in my mind."
Poots originally planned to do Sacred Sites for the inaugaral festival in 2007, but couldn't make it work in tiome. "One of the earliest sensitivities was going into a situation and asking a stupid question. I wanted to do it with integrity and respect, I wanted there to be dialogue. It's not a religious service but there are religious aspects to it."…