Archive for the 'Shaima Alawadi' tag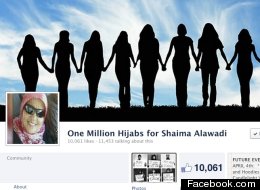 by Omar Sacirbey
from the Washington Post
Jean Younis won't be wearing an Easter bonnet at church this Sunday. Instead, the office manager at Bonita Valley Adventist Church in National City, Calif., will don an Islamic headscarf to support the family and friends of Shaima Alawadi, the Iraqi immigrant and mother of five who died March 24, three days after being beaten in her home in El Cajon, Calif.
"I do expect a reaction, but that's the point. It needs to be discussed," said Younis, 59, who predicted that most church members would be supportive or respectfully inquisitive.
She is one of many non-Muslim women to post photos of themselves wearing a headscarf on "One Million Hijabs for Shaima Alawadi," a recently created Facebook Page that had nearly 10,000 likes on Monday (April 2) and hundreds of photos. Others posting on the page have identified themselves as Catholics, Quakers, Mennonites, Jews, Pagans, and atheists.