Archive for the 'tolerance' tag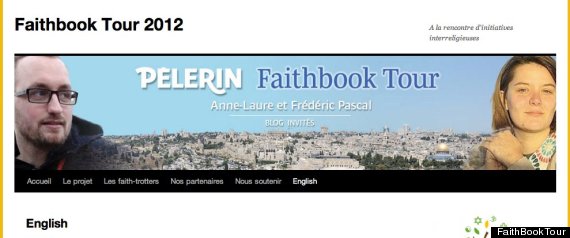 by Gillian Flaccus
from the Huffington Post
CLAREMONT, Calif. — Frederic and Anne-Laure Pascal are devout Roman Catholics who built their lives around their religion. When she lost her job last year, the young couple decided on an unlikely expression of their religious commitment: a worldwide "interfaith pilgrimage" to places where peace has won out over dueling dogmas.
Since October, the French couple has visited 11 nations from Iraq to Malaysia in an odyssey to find people of all creeds who have dedicated their lives to overcoming religious intolerance in some of the world's most divided and war-torn corners.
The husband-and-wife team blogs about their adventures – and their own soul-searching – and takes short video clips for the project they've dubbed the Faithbook Tour.
by Made Arya Kencana & Fitri
from The Jakarta Globe
Denpasar/Mataram. It was an unusual sight for anywhere in Indonesia: Muslim men arriving for Friday prayers in an atmosphere of complete silence, without the usual call to prayers blaring from the mosque loudspeakers.
But the fact that they were still allowed to go to mosque on a day when virtually all of predominantly Hindu Bali remained shuttered at home for the holy day of Nyepi was itself testament to the high degree of religious tolerance on the resort island, said Ketut Teneng, a spokesman for the provincial administration.
Although religious and administrative authorities are strict about people remaining at home during Nyepi, the Hindu Day of Silence, Teneng said Muslims were welcome to go to mosque, as long as they only walked there and did not turn on the mosques' loudspeakers.
by Jason A. Kerr
from State of Formation
Some years ago, a new high school was built in my hometown. At the old high school, Mormon students had been permitted to leave campus during the day for religious instruction ("Seminary") at a small building across the street. With the tacit aim of putting a stop to Seminary, many in the community advocated for the new school to be a "closed campus."  But after the local ministerial association wrote a letter in favor of allowing Seminary to continue on principles of religious liberty, the school board passed—by a single vote—a closed-campus policy that made an exception for the Mormon students.
At the time, my father was assigned to oversee the Seminary program in our local stake. Accordingly, he presented a letter of gratitude on behalf of the stake to the next meeting of the ministerial association, where the ministers received him quite warmly.
The ministers hadn't counted on Dad continuing to attend their meetings, however. As Dad put it, he arrived the next month "with the stated intent to determine whether the LDS community could have a role to play in promoting faith and values within the community." Unfortunately, that month the association had invited a speaker to address ways of dealing with the Mormons and their missionaries.